we use google translate


==

***

7

***

==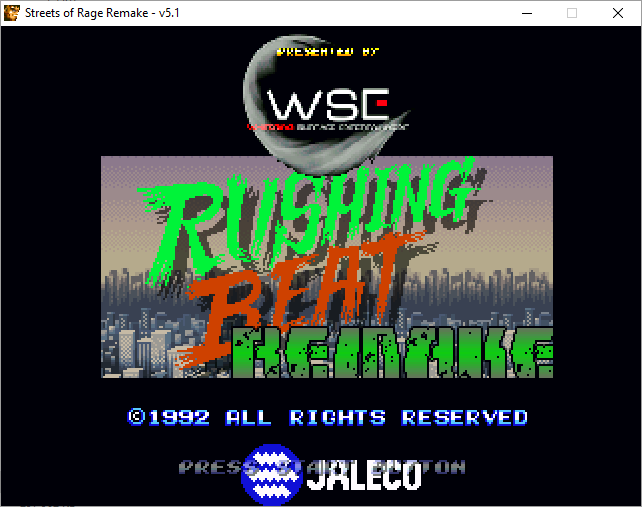 Rushing Beat (Remake) FE v2.1 is one of the first mods written for the Streets of Rage Remake console. The compilation is large. Although one of the first, the game's qualities are remarkable.
The story recreates an alternate version of the Rushing Beat story once written by the Japan Leisure Company.
Our Wood Oak City gang is now in the world of two detectives Rick Norton and Douglas Bild. The combination looks great. The new models are enriched with new active decors and breakable items that are typical of Rushing Beat.
The game also has a number of items that are borrowed from the original Rushing Beat, which brings gamers an authentic gaming atmosphere full of many innovations.
The different stages also have alternative paths that you can take. They are brand new and were added during the latest update of Rushing Beat Remake FE v2.1 from 2016.
Although rich in many innovations and borrowed elements, this great mod uses the core of SorR. This means that you will be able to use the full set of settings typical of Streets of Rage Remake, such as changing the color and the names of the characters to your liking and more.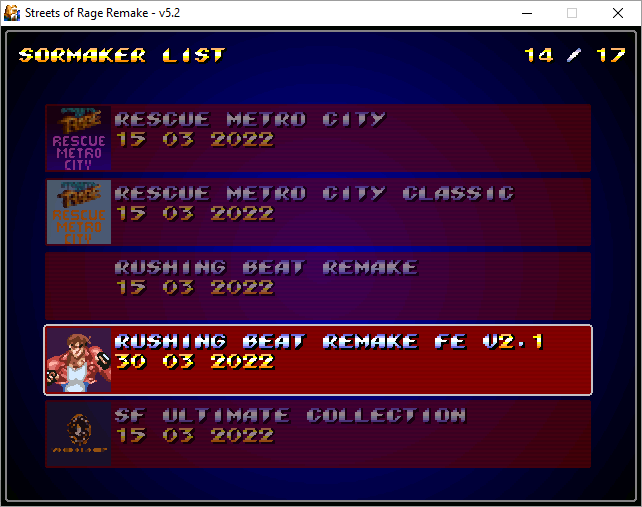 In addition - gameplay with nothing of difficulty, like Mania and very Hard unlocks another stage for you.
The Grandmaster Challenge is a full bonus stage, which can again follow two alternative routes. It is exhilaratingly interesting and very difficult. We used max Guage and the three star option to get past it.
The interesting thing about it is that it moves backwards and starts as hard as possible, and as you progress to the finish it becomes easier.
The game has been tested and works on the platform of Streets of Rage Remake v5.1

How can we install Rushing Beat Remake FE v2.1 ?
Download SoR Remake V5.1 first.
Then download The Rushing Beat Remake mod.

-Unzip it === >> copy the folder of the ''Rushing Beat Remake FE v2.1'' and past it into the Games folder of SoR Remake.
:\SORRv5.1\mod\games

-Copy the mod folder ''dataRBR'' ===>> paste into the main directory of the game - it is:\SORRv5.1\

-Copy the contents of ''Rushing Beat Enemy Palettes'' ===>> paste it by replacement in \SORRv5.1\palettes\enemies

-Copy the contents of ''Don Vecta's RB and KOF chars Palettes'' ===>> paste it by replacement in\SORRv5.1\palettes\chars

Turn on the game from SorR.exe and select SOR-MAKER from the menu.
Thats all - play and fun!
The Downloads!

Good MoD Games New Live for Street of Rage

==

***

7

***

==

Direct Download RBR by Archive !


this clip from The Areton'S - Web World Guide on their channel оn youtube


the game info. on wikipedia on their pages
free unzipper 7zip Download