we use google translate


==

***

7

***

==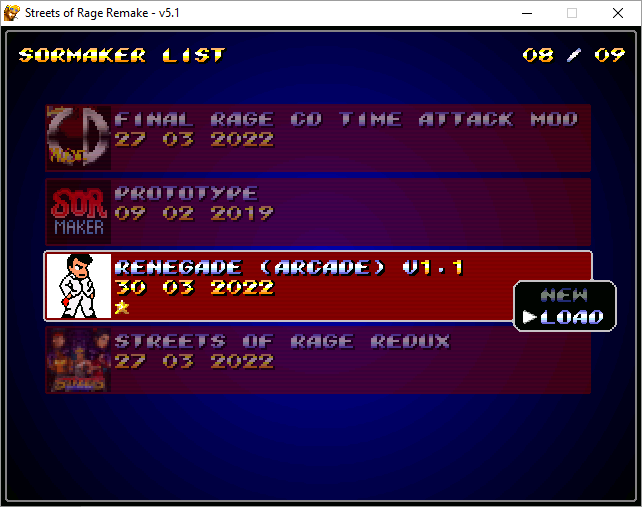 Renegade is a mod for SorR which is based on the original game of Technōs Japan - Nekketsu Kōha Kunio-kun (Renegade).
This mod recreates the story of Kunio but through the prism of Streets of Rage. The game is a success and now you will be able to replay this legendary story with the characters of SoR. Although short in duration, the gameplay is intense and very difficult. The stages are long and very busy and the opponents are constantly attacking. Everyone has their own gang that you will have to defeat. Well the game has some differences. For example, after you defeat the final boss, you will not be waiting for your company, but for Axel's girlfriend, who throws herself on his neck. The resemblance to Blaze is astonishing.
As we mentioned, the game is quite difficult. If you play mania you will sweat a lot. However, this mod uses the Streets of Rage Remake engine and you will be able to use all the additional innovations offered by this platform.
A number of elements, such as endless ammunition, maximum geuge and even immortality.
Well, the game is quite intense and will make you sweat a lot.
This game has been created by: Serrr and SorR society.

How can we install the mod of Street of Rage Renegade?
Download SoR Remake V5.1 OR V5.2 first.
Download Street of Rage Renegade.
Unzip it === >> copy the folder of the Street of Rage Renegade and past it into the Games folder of SoR Remake.
\ Streets of Rage Remake \ mod \ games
Turn on the game from SorR.exe and select SOR-MAKER from the menu.
Thats all - play and fun!




this clip from The Areton'S - Web World Guide on their channel оn youtube

free unzipper 7zip Download