we use google translate
if you need ===>>

Double Dragon & Mortal Kombat <<=== ===>> M.U.G.E.N. Game Club
Final Fight Game Club <<=== ===>> M.U.G.E.N. Game Club-Dragon Ball
Beats of Rage Game Club <<=== ===>> M.U.G.E.N. Game Club-K.o.F -Torrent
Streets of Rage Game Club <<=== ===>> M.U.G.E.N. Game Club-Mortal Kombat
The WebSite of Ristar87
The WebSite of Tradt
Blogger Tradt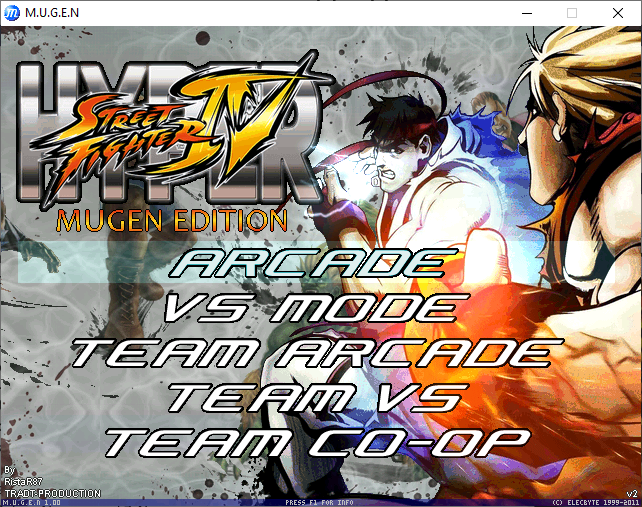 Mugen's games are constantly improving. They are getting more and more perfect.
One such game is Hyper Street Fighter 4 MUGEN.
This is version 2 of the game and although it is a remake by nature, it has the advantages of a separate alternate story.
Richly animated decors in HD format. Excellent models to play with. Many of the characters are created through quality and detailed animation that successfully mimics a 3D image. The sprites are in excellent sync, which gives smooth movement and integrity to the images.
The graphic design is incredibly good.
The story is that of the standard Street Fighter 3 series, and Hyper Street Fighter 4 MUGEN is its sequel.
The game features a total of 80 individual symbol, and there are some hidden characters. Among the heroes of course are Ryu Hibiki and Ken Masters, as well as all the stars of the Street Fighter 3 series. In addition, there are the characters from Final Fight, Street Figter EX and Street Figter 1. And if you think the game is generous enough, then the menu offers more - a wide selection of innovations. Some of the characters have additional varieties. These are Ryu o Evil Ryu, Akuma and Cyber Akuma and Z Akuma.
Added two more of Gouki's superb manifestations are the demons Oni and Omni.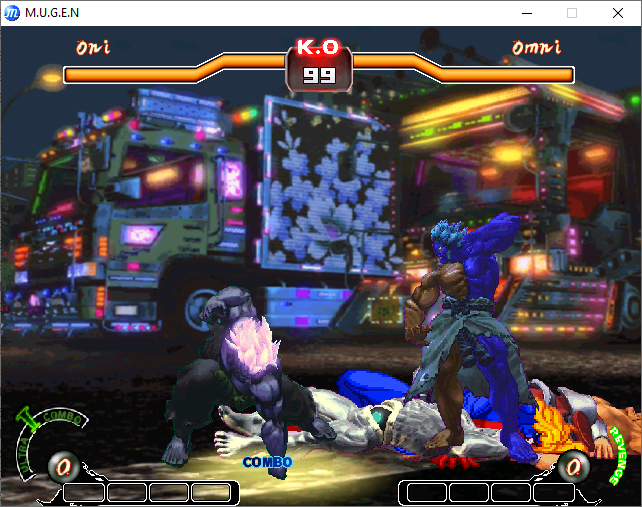 While Oni is a pure incarnation of Gouki, Omni and a part of the relics of the Illuminati giant Gill. His DNA turns this fighter into an ultra-unparalleled creature and overpowers the great Seth, who was created entirely by genetic mechanics.
These characters are also built through better animation, which makes them look really impressive. There is also a personification of Shin Bison. This commander already boasts of his unlimited abilities. Now, through this incarnation, he is extremely difficult to defeat, even at the lowest difficulty.
Another heroes are hiding on the random hero menu. This is Asura. Amazingly powerful character who has a significantly limited set of grips and punches. On the other hand, the available abilities are so charged with Qi energy that they easily knock down any enemy.
The comic image of Bad Megaman, which is also among the strongest fighters, has been added.
You will also be able to find that the great martial arts master and teacher of Akuma and Gouken, Goutetsu is also one of the strongest. Although not so pronounced, his martial art is at the heart of the best fighters.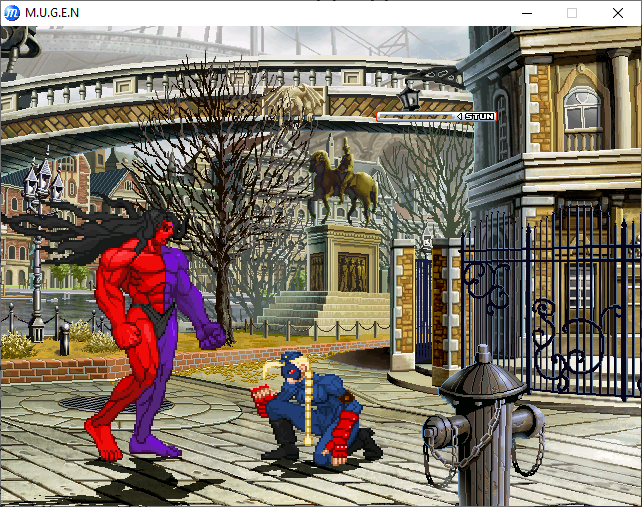 The mechanics of the gameplay of Hyper Street Fighter 4 MUGEN also have their own characteristics. Although with a classic look, it has its own special style that makes it interesting to learn. Our familiar heroes have changes in its fighting style. Some perform differently, and the main advantage is given to those players who rely on physical strength. The ability of warriors to fend off enemy strikes can make the use of hyper combos meaningless. Instead, you need to study your character and, when you master his techniques, rely on your tactical fighting skills.
Hugo and Dhalsim are especially suitable for the game. These two characters are very different, but their ability to hit far makes them especially suitable as a universal choice for inexperienced gamers.
Geki - the ninja from Street Fighter 1 also performs well. His ability to hide on the battlefield makes him invulnerable to enemy attacks. He is also the other character along with Vega who uses a fork for his weapon.
As guest champions, the author has added two characters from Tekken. These are the fighters Jin Kazama and Kazuya Mishima. These fighters have the classic look of karate fighters, which fits very well into the conjuncture of Street Fighter. These two characters fit the general character of the game, and their fighting style is now equated and reconciled with that of Ryu Hibiki and Ken Masters.
The three boxers Balrog, Mike and Dudley are also performing very well. However, their strong and technical natures need great skill to use. They face great difficulties against fighters like Dhalsim or Remy. Remy's ability to fire at the enemy with his "Light of Virtue" whistling projectiles is so massive that he fends off his opponents far away. It is very difficult to overcome this massive attack.
Well, in general, this is one of the best games of MUGEN, which is dedicated to Street Fighter and we can call it an absolute remake that simulates the original as effectively as possible.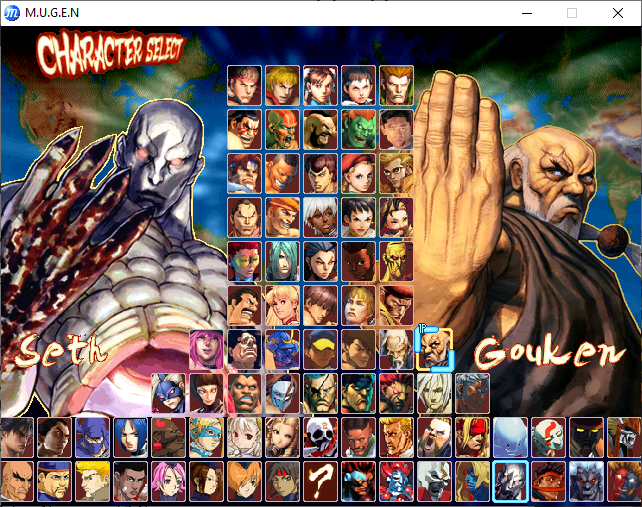 Hyper Street Fighter 4 MUGEN has been created by Ristar87 & Tradt and MUGEN society



Installation : Download ===>> unzip ===>> play







List of the guest characters in the game Hyper Street Fighter 4 MUGEN

Brand

Origin

Symbol

Symbol

Symbol

Mastery

Street Fighter

Authorship-MUGEN Society

Cyber Akuma

Z - Akuma


Karate Master

Tekken

Tekken

Jin Kazama

Kazuya Mishima



Karate Masters

Asura's Wrath

Capcom Universe



Asura



Karate Master

Street Fighter

Movie



Street Fighter



Sawada



Karate Master

Author's incarnation

Authorship-MUGEN Society





Bad Megaman

Free fighting style

Street Fighter EX

Street Fighter

Shin Bison



Soul Power and Satsui no Hado

Super Street Fighter

Super Street Fighter IV



Oni



Ansatsuken Spirit Warior

Street Fighter

Authorship-MUGEN Society



Omni



Ansatsuken

Karate Master