we use google translate
if you need ===>>

Double Dragon & Mortal Kombat <<=== ===>> M.U.G.E.N. Game Club
Final Fight Game Club <<=== ===>> M.U.G.E.N. Game Club-Dragon Ball
Beats of Rage Game Club <<=== ===>> M.U.G.E.N. Game Club-K.o.F -Torrent
Streets of Rage Game Club <<=== ===>> M.U.G.E.N. Game Club-Mortal Kombat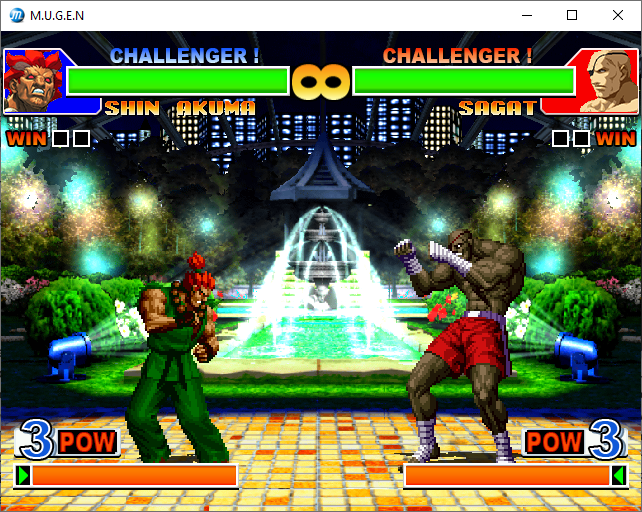 Another good game from mugen - The King of Fighters 98 Tag Team Fight - HD with its update from 2022. Behind this simple menu is one of the best games dedicated to K.o.F.
By its nature, this is a remake of the one produced by SNK The King of Fighters 98. Given the advancement of technology, the qualities of this MUGEN remake are very good. In addition to HD picture quality, you will be able to enjoy a great gameplay. The models of the characters are lively and dynamic, and the control over them is perfect. Although there are many choices of hyper combos available, they are still part of a the good sparring.
Exceptions are Orochi and O.Rugal. as ultimate bosses, they use almost entirely their paranormal and supernatural abilities to deal with their enemies. These two characters are so powerful that it is almost impossible to defeat them with your fighting skills and good tactics. To win you will have to rely heavily on your special skills. However, the duel remains interesting and tense. If you are not precise, these powerful heroes will overcome even your Qi and it will be overcome, and you will be helpless. Very busy and dynamic mode. All other fights, however, are elegant in the classic style of good fighters. An important element of the game that should be highly valued is that the control is extremely good and the fighting hits are easier to perform. More spectacle has now been added to the traditional techniques, which makes our well-known characters now look new, fresh and different.
The palette of The King of Fighters 98 Tag Team Fight - HD is rich. From the console dashboard you can choose your character. These are 55 characters, among which are all the classic characters from K.o.F. 33 more hidden selectable characters have been added to the game, including some heroes who are guests from different series. For example, you will find Shin Akuma or Sagat from Street Fighter. Also Jazu from Kizuna Encounter or Silber from Buriki One. Impressive is Mr.Karate, which segha has significant differences from its prototype of Takuma Sakazaki.
Well, this update from 2022 is a very good addition to your collections, you can download and save. And those of you who can, develop the conceptual concept in the next new remake.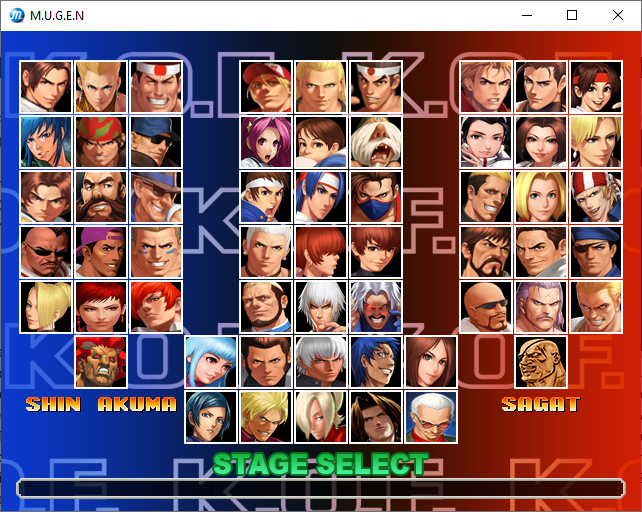 The King of Fighters 98 Tag Team Fight - HD has been created by Desi Game Wold and MUGEN Society.




Installation : Download ===>> unzip ===>> play
List of added hidden characters in

The King of Fighters 98 Tag Team Fight M.U.G.E.N Update 2022-

HD

Street Fighter




Second row




Chun Li





Street Fighter


Third row




Sagat




Shin Akuma





The King of Fighters


First row



Ramon

Seth

Gato

Bao

Jhun

Lee

Rock

Duck

Shion

Lin

Nameless

The King of Fighters


Second row



Hotaru

B.Janet

Vanessa

Angel

Foxy

Malin

May Lee

Hinako

Momoko

Xiang Fei



The King of Fighters


Third row



Krizalid

AdelHeid


Shin-Mr.Karate



Zero

Igniz

Magaki

Mukai



Kizuna Encounter


Third row




Jazu





Buriki One


Third row




Silber/Silver