we use google translate
if you need ===>>

Double Dragon & Mortal Kombat <<=== ===>> M.U.G.E.N. Game Club
Final Fight Game Club <<=== ===>> M.U.G.E.N. Game Club-Dragon Ball
Beats of Rage Game Club <<=== ===>> M.U.G.E.N. Game Club-K.o.F -Torrent
Streets of Rage Game Club <<=== ===>> M.U.G.E.N. Game Club-Mortal Kombat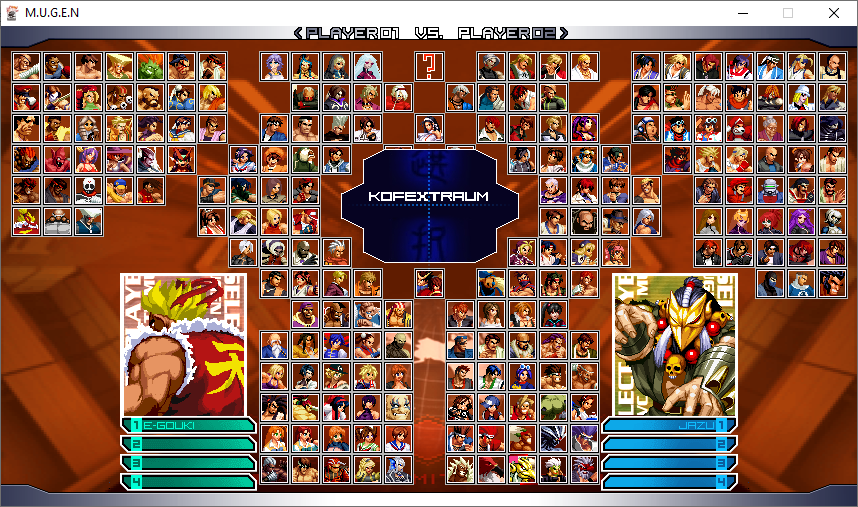 A very good game that could have escaped us, among the huge production of MUGEN. Fortunately, we found it thanks to the youtube archives of Desi Game World. So we can give gamers the much-desired review.
The King of Fighters EX Unlimited Match Ultra Plus HD is actually an extended edition of The King of Fighters Unlimited Match. Now, however, this upgraded version of the game is a classic multiverse. The added characters are mostly from SNK, as the title of the game suggests. There are also some selected characters from Marvel, Mortal Kombat, Samurai Shodown and World Warriors. It is also impressive that a complete set of Street Fighter characters has been added to The King of Fighters EX Unlimited Match Ultra Plus HD. The best models have been added. You will find such attractive characters as E-Gouki, Dark Ryu and Evil Ryu whose fighting style now resembles Silver more. A number of hidden selectable characters have been added to the console. These are ultimatum figures that are characterized by their supernatural power.
The tournament is extremely spectacular. Very interesting match. The synchronization is excellent and the duels are a real pleasure for the players. However, it is impressive that some of the tricks are quite difficult to perform. That's why it's a good idea to have a joystick to play with.
The game, as we mentioned, is quite interesting and the characters are strong, which suggests that the matches can be conducted with the greatest endurance of the contenders, which is 300%. In general, there are no weak or strong characters, it is important to learn the moves of your favorite hero and then show diligence and precision. However, universal fighters such as Ryu Hoshi, Ken Masters, Gouki, Takuma Skazaki or Ryo Sakazaki do better. These characters are easy to learn due to their natural nature. They are especially suitable for beginner players who do not yet know the game well.
Impressive are two more added characters. In the game The King of Fighters EX Unlimited Match Ultra Plus HD there are also Axel Stone who is an hero from Streets of Rage Remake and one of the characters of Super Mario serie. While Axel Stone presents itself as an interesting addition to the game, Super Mario is making a real sensation. He presents himself as one of the best fighters with very good techniques. The comic figure of a plumber has now been replaced by the elegance of boxers from the Bare Knukle era.
One hundred and eighty-four elective heroes, twenty hidden elective characters. Great game and great fun for all fans of battles and martial arts tournaments from the world of MUGEN.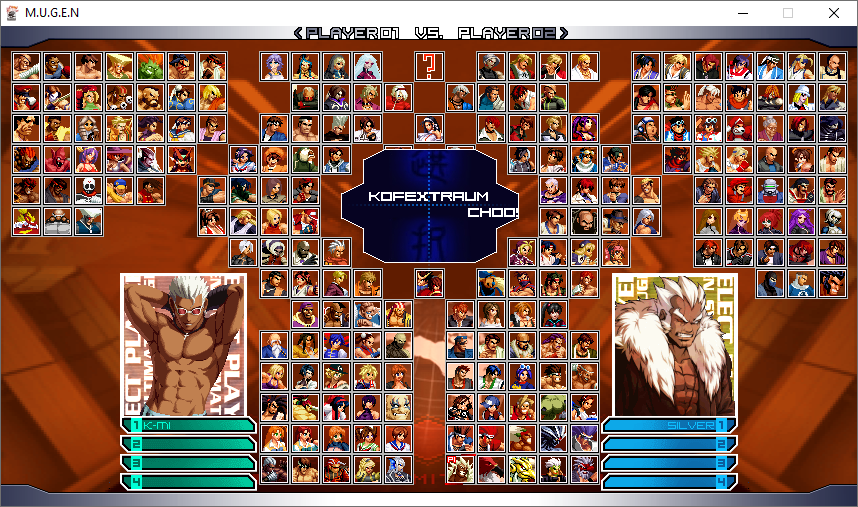 The King of Fighters EX Unlimited Match Ultra Plus HD has been created by MUGEN Society.




Installation : Download ===>> unzip ===>> play
List of hidden characters in

The King of Fighters EX Unlimited Match Ultra Plus HD


















The King of Fighters

First row

Saki
N.Geese
Magaki
Mukai
Igniz
Zero
Zero-0
KRIZALIDAKI
The King of Fighters

First row

Orochi
Goenitz
Apollo
Gustab.M
Psiqhical
Sinobi
GoodMan
Mizuci














Individual
In

Panel

Super Mario
Sub-Zero
Axel Stone
Logan
Reed Richards