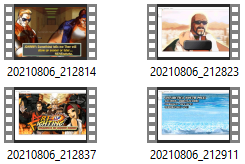 The long-awaited sequel to J. Silva's play, Art of Fighting: Trouble in Southtown, is already a fact.
This is not a new series of the game, but a very powerful update created by Toranks.
A number of patches, innovations, and a whole series of functional changes have been added, so the two versions 1.7 and 2.4 remain different. For this game we should also thank Kratus and oIlisionista for their contribution to the processing and improvements.

The game is a vast world conquered by Mr. Big. This enigmatic character has conquered Southtown and has in turn many of the characters of Art of Fighting.
You will have long hours in an attempt to conquer the city back, and along the way you will find many secret secrets that will help you for further missions.
When you pass the main map, you will be able to create a free map with many new characters, qualities and missions to complete.
A huge field with many opportunities and ambition. This game is inspiring.

Installation : Download OpenBoR First ===>> Download the pak.file of the game ===>> paste it into the paks folder of OpenBoR ===>> play


🔖

Build Free Templates for Your Games



🔖

Build Free Website for Your Games