we use google translate

if you need ===>>

Double Dragon & Mortal Kombat <<=== ===>> M.U.G.E.N. Game Club
Final Fight Game Club <<=== ===>> M.U.G.E.N. Game Club-Dragon Ball
Beats of Rage Game Club <<=== ===>> M.U.G.E.N. Game Club-K.o.F -Torrent
Streets of Rage Game Club <<=== ===>> M.U.G.E.N. Game Club-Mortal Kombat

Daniele Spadoni's blog and Games Download
Daniele Spadoni's YouTube channel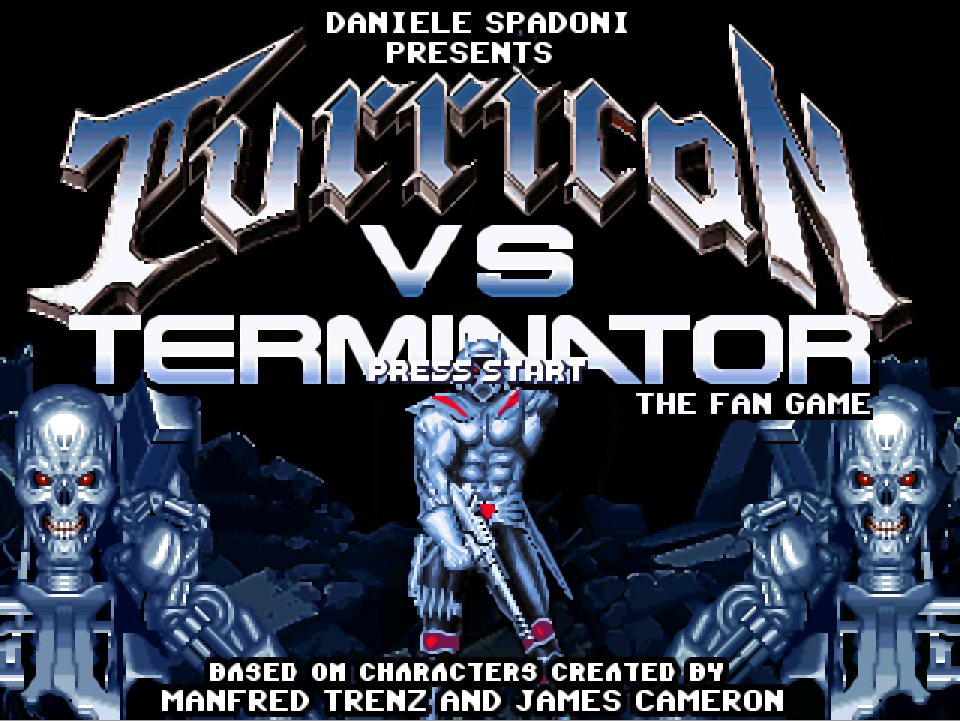 TURRICAN vs TERMINATOR is a game by Daniele Spadoni.
This time with the help of OpenBoR this talented artist from Italy has created a wonderful game in retro 2D style.
This is an unofficial sequel to the Terminator saga.
The story of the game crosses two great sagas - that of TURRICAN and TERMINATOR.
The year is a distant 3035 and the people who survived on earth still live under the threat of SkyNet and its terminators.
However, a foreign spacecraft loaded with super modern equipment reaches the Planet Earth. This ship also has its own biomechanical fighters, which, unlike the SkyNet terminators, are considered part of the human race. These superboys will collide with the Terminators from the ground in an epic clash.
Lots of weapons and hidden recipes, lots of extra settings, if the game is too difficult you can set extra credits.
In general, you have long hours to improve your skills.
The armies of Skynet Terminators against a radically different type of bio-mechanical wariors.
This game game has been produced by OpenBoR society and Daniele Spadoni

Installation : Download OpenBoR First ===>> Download the pak.file of the game ===>> paste it into the paks folder of OpenBoR ===>> play

Good New Games

Direct Download Service


this clip from The Areton'S - Web World Guide on his channel оn youtube

free unzipper 7zip Download