we use google translate
if you need ===>>

Double Dragon & Mortal Kombat <<=== ===>> M.U.G.E.N. Game Club
Final Fight Game Club <<=== ===>> M.U.G.E.N. Game Club-Dragon Ball
Beats of Rage Game Club <<=== ===>> M.U.G.E.N. Game Club-K.o.F -Torrent
Streets of Rage Game Club <<=== ===>> M.U.G.E.N. Game Club-Mortal Kombat
The Author's Blog
The Game Forum in Chronocrash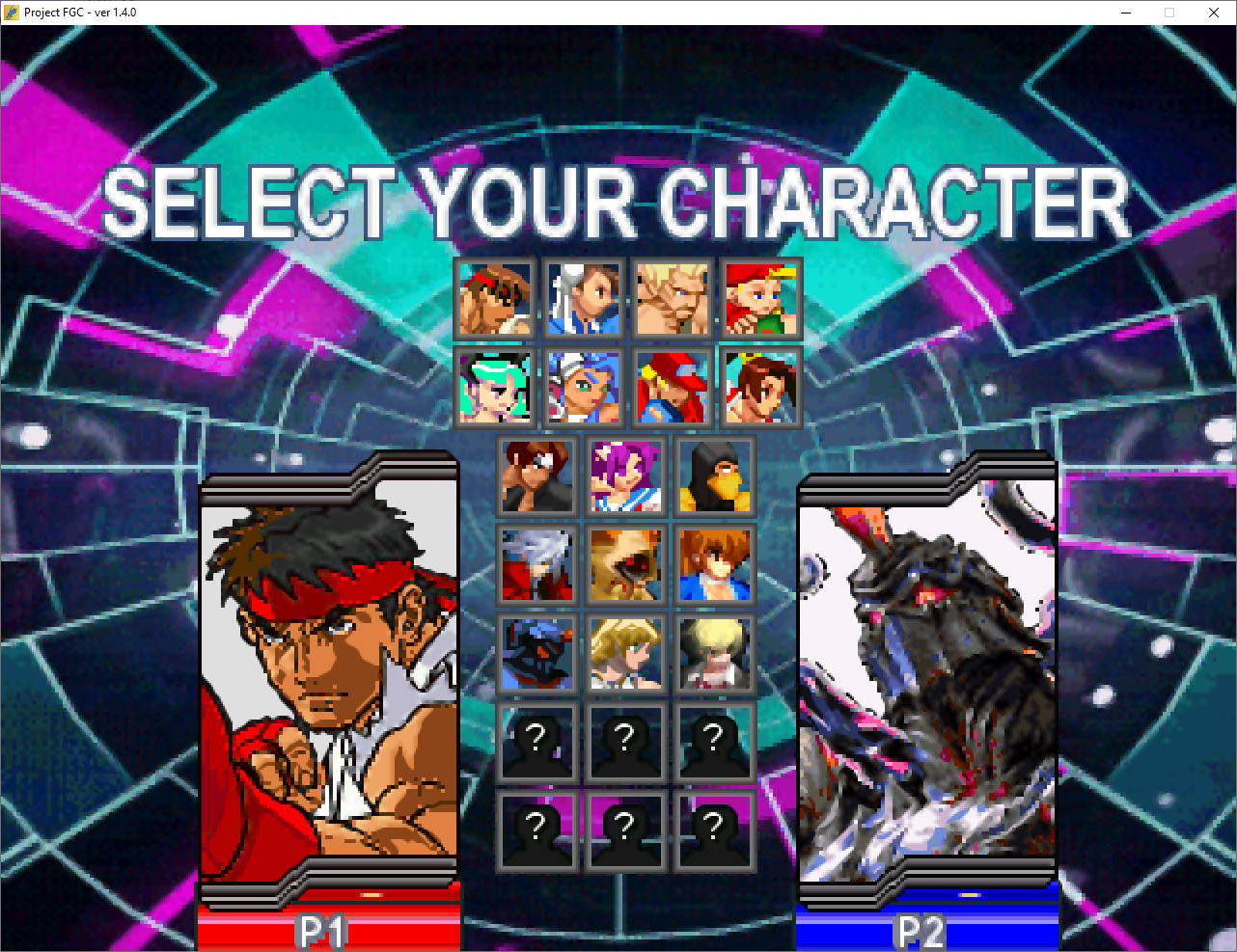 New game from NickyP. Project FGC is a good proposal for a solid action beat 'em up game with many spectacular battles. The game is still in beta, but it can be played. Maybe the final version looks different, but still the game is great.
Leading mode, as the author says, is "Dramatic Battle". There are no complicated choreographic artifacts, and the gameplay is focused entirely on battles.
The game is in 2D format in single line mode and uses arenas for different levels, which is more like a game for MUGEN than for Beat 'em Up.
Combined composition of characters. Here are players from Street Fighter, King of Fighters, Soul Blade and others. Among them are Ryu, Guile, Nightmare, BlaoBlue's Taokaka and many more.
Project FGC is focused on martial arts and players are endowed with huge potential for battles. Finishing moves, combined strokes, extra grips, spells and more. Your enemies are also quite attractive. Their grips are sometimes so ruthless they will eliminate enemies completely.
Unlike most beat 'em up games, Project FGC is divided into chapters. Each chapter is its own game with different arenas and final bosses. You can play them separately. Chalenge mod and boss rush mod have also been added. They are not more difficult, but they are organized around a central battle.
As we mentioned, the game is still being developed and innovations are yet to come. However, this project looks quite promising, and for any gamer who prefers rich battles, this will be a long-awaited title.

Project FGC has been created by OpenBoR society and NickyP.

installation instructions:
Download === >> unzip === >> play
If you are looking for a game that you can't find, you can write on our Facebook page using messenger, chat or join one of our groups.
https://www.facebook.com/groups/SpeedallgameSSites.here
Visit the RedBrilliantFox packaged games section at this link
https://www.speedallonlinegamessiteshere.com/free-game-packs-by-openbor
Good New Games
free unzipper 7zip Download