we use google translate
if you need ===>>

Double Dragon & Mortal Kombat <<=== ===>> M.U.G.E.N. Game Club
Final Fight Game Club <<=== ===>> M.U.G.E.N. Game Club-Dragon Ball
Beats of Rage Game Club <<=== ===>> M.U.G.E.N. Game Club-K.o.F -Torrent
Streets of Rage Game Club <<=== ===>> M.U.G.E.N. Game Club-Mortal Kombat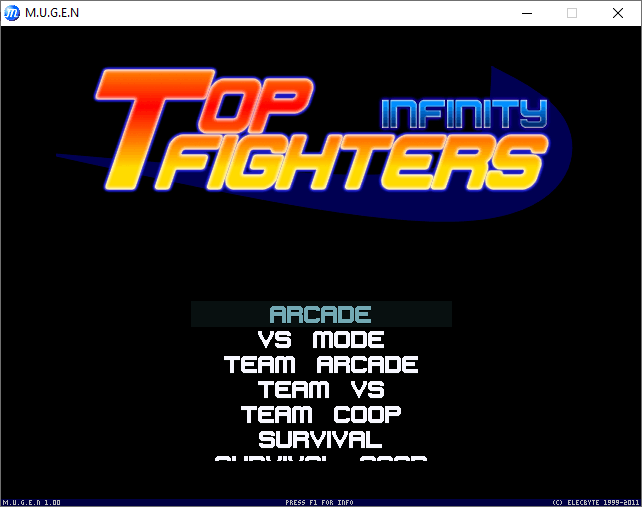 Here's another multiverse game. Top Fighters Infinity 1.0 MUGEN is in his first version. Very good qualities. The clean design of the game makes the gameplay good. The figures stand out easily and do not fill the entire screen. There is enough space to feel comfortable in the battle arena.
Very well constructed sprites and decors which, apart from being perfectly synchronized with each other, also offer HD image quality.
A total of 126 individual characters are included in the game. Among the fighters are the representatives of The King og Fighter and Street Fighter. But there are also selected heroes from Mortal Kombat, Vampire Hunter, Marvel and DC and others.
Top Fighters Infinity 1.0 MUGEN wonderful and fun fighting game with many and different comic elements. An impression is made by Kechistur Raiden, who uses different colorful costumes for his battles, in one of which he transforms into a gorilla. Of course Dan Hibiki is always interesting. Some of the characters have several different variants. Such are Ken and Ryu, and Rugal from KoF has as many as three variants of his character, each of them being more and more terrifying.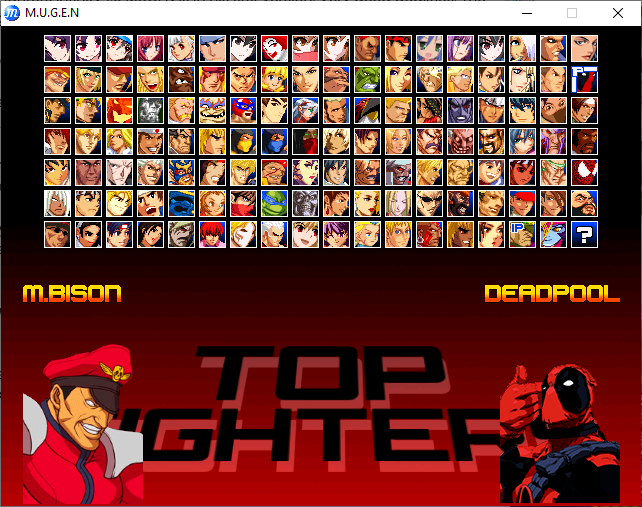 Top Fighters Infinity 1.0 - MUGEN was created by By Lurker and MUGEN society
All staff - in the text documents of the game

You will find the full composition of the creative team in the text files of the game!
Installation : Download ===>> unzip ===>> play