we use google translate
if you need ===>>

Double Dragon & Mortal Kombat <<=== ===>> M.U.G.E.N. Game Club
Final Fight Game Club <<=== ===>> M.U.G.E.N. Game Club-Dragon Ball
Beats of Rage Game Club <<=== ===>> M.U.G.E.N. Game Club-K.o.F -Torrent
Streets of Rage Game Club <<=== ===>> M.U.G.E.N. Game Club-Mortal Kombat

The creator's YouTube channel <<=== Antares Mugen Creations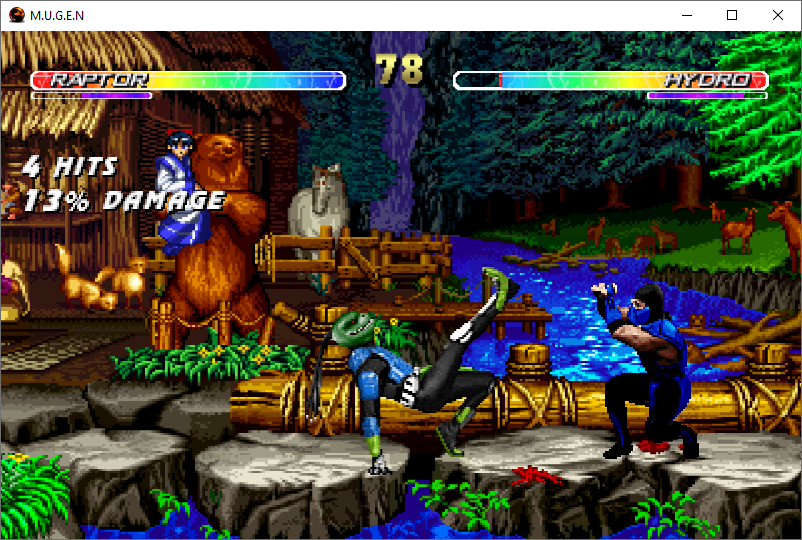 Very cool! A new reading of the history of the Mortal Kombat tournament. This game is built on the core of the Mortal Kombat Project but has been renovated. New decors and some new characters have been replaced and added now. The art theme is now combined in a new way to bring gamers a whole new environment.
We all know the outside world from the saga. This gloomy and dangerous place is an arena for many adventures and battles. But the author of this version MKP - Antares has added a number of new fantastic realities. New worlds to fight. Some of them are similar to the Earth Realm, but others look too abstract. In general, you will enjoy a colorful and cheerful atmosphere of a wonderful but dangerous world.
Several figures by the author have been added to the characters. These are the characters from Streets of Rage - Shiva, Electra, Suzaku and Gale. Also Achaiah, Antares, Asirius, Kardama, Ninetails, Monange, Saul, Jezerbel, Dozo and the Clown. A total of 82 players you can use - among them are Taven and Daegon, who are the main actors and main protagonists in the game Mortal Kombat Armageddon.
Some of the characters are presented as hidden selectable characters. These are usually bosses like Shao Kahn or Goro, but you will also find Hamelion and Triborg.
Well the game is very interesting and the core of the Mortal Kombat Project works great.