Original Game !
LNS WebSite !
CON 5 DUROS - Neston's YouTube channel !

Napalm - Authors!
Author's YouTube Channel !
Author's Quora Blog!
Author's Facebook Group!
---
Testers:
Accelerate the Web Biker: youtube.com/@A.W.B.
Vangames: youtube.com/@vangames4134
---
Technical support and creative geniuses 🕮🕮🕮
== msgneverything ==
---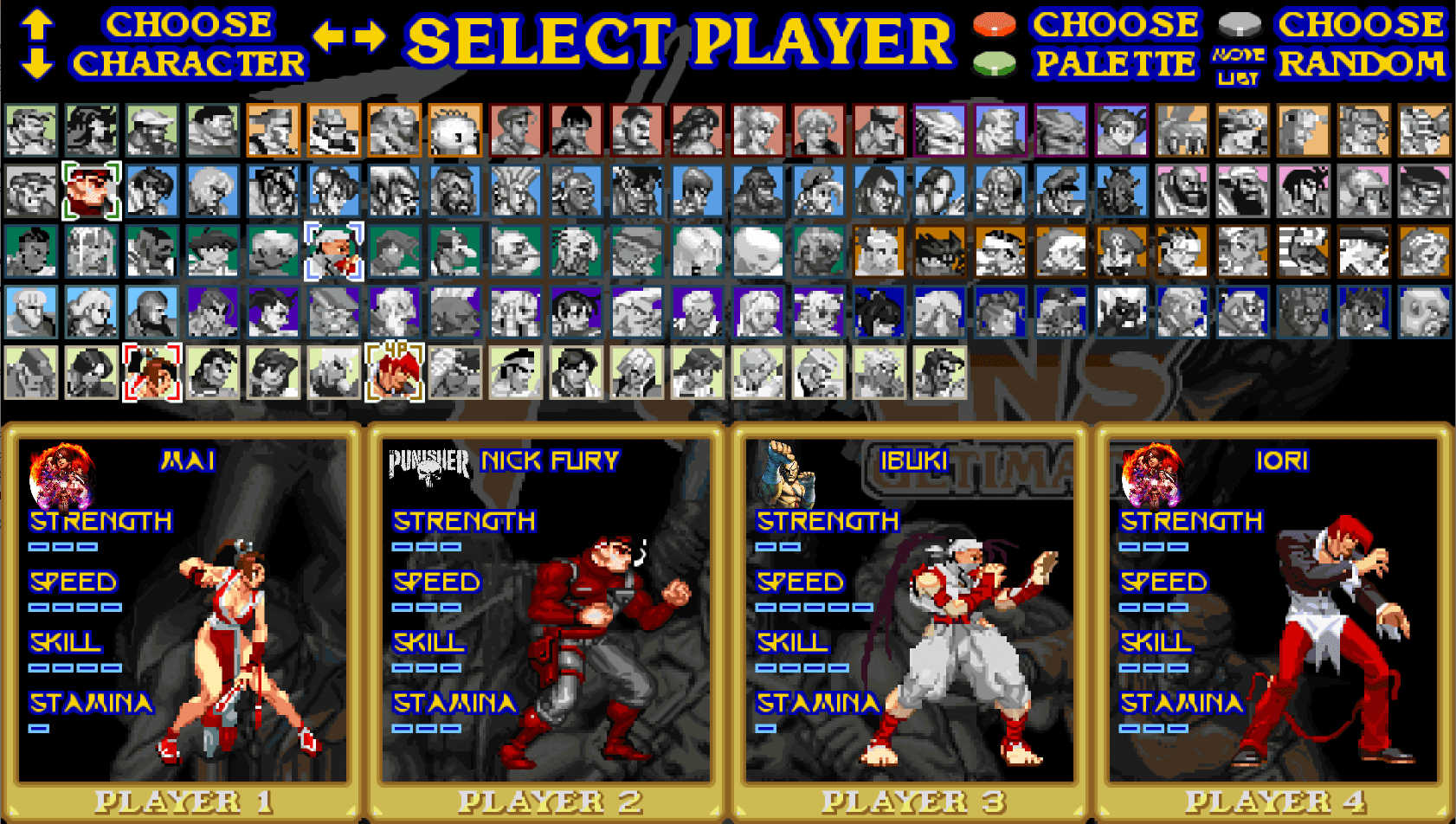 The OpenBoR engine has once again shown that it is one of the best in the world.
Stable and easy to use by anyone who wants to create and create wondarfull virtual works.

And so!
Also ready, the new update 1.1 of Napalm Hack, mod of FFLNSUV0.4.
We managed to squeeze out the fullest possible potential of the characters by combining them in the most appropriate way.
The emphasis, this one falls on the ability of the characters to fight, at the expense of their magical skills. We managed to pull out a number of new combinations for you to use in your gameplay.
The battlefield looks in a new and stunning way.
The playground is now a more dynamic playing environment.

---
What is new ?
As you know, the gameplay demanding high precision and tactics is characteristic of Final Fight LNS Ultimat. In Napalm Hack 1.1, it has been replaced with pure dynamics. An intense furor that will leave enemies breathless or send them flying across the field.
Many of the characters in the original Final Fight LNS Ultimat game have additional abilities that are not included in the screenplay. We've done our best to find them and make them available to fans. You will be able to discover all of them in Napalm Hack 1.1.


Changes compared to the original Final Fight game :
-Added some new combos and abilities.
- Th Ultimate Moves are now easier, faster and more successful.
- Unlocked cheats.
- 3 new attack buttons are added.
- The parry button has been removed.
- More HP to your character.


- Increased MP and MPrate to unlimited usage limit.


- Also added a new starting color for characters.
- Easy keys - performance! Combos and special moves are now performed with a simple press of one button or a simple combination of both buttons.


Changes in

Napalm Hack 1.1

vs.

Napalm Hack Mod

:
- In Napalm Hack Mod, some new super combos were created that did not exist in FFLNSU.
Now in Napalm Hack 1.1 we have managed to take the full potential of the characters and present them in a ready-to-use form.
- Thanks to the Tree additional buttons added in Napalm Hack 1.1, you will be able to master the available novelties, quickly and easily. All this guarantees a wonderful gaming experience.
- You can also view the two mods as two separate games. That's because this update is a rebuild and remodel, not an upgrade.


About this Napalm mod -

With many thanks to

LNS

!
- We built this mod on the massive platform of LNS and Pierwolf with their games Final Fight LNS Ultimate v.04 and Final Fight Gold. We wanted to facilitate our own gameplay by making it easier and more varied.
Typical of the open spirit of OpenBoR community, we share our achievements with fans and anyone who wants to play these great beat 'em up games.
We have named them Napalm Hack 1.1 and Napalm Hack Mod because of their kind. By their nature, they are a simple fix to the default features of both OpenBoR and the game.
Note!
Our modest contribution cannot be compared to the tremendous achievements of the LNS we have worked on.
For which we offer them our deepest thanks and admiration for their efforts.



Let's note that the gameplay of "Napalm Hack mod of FFLNSU V.04" is drastically different from its original prototype. So if you want to play the original game, you have to download it from the LNS site or from the attached link on our site.


(

If you want to play the game the way the LNS authors made it, you need to download their original version

.)

---
- Special thanks to

msgneverything

for his guidance.

Which motivated us and showed us how to unlock them

.
Without his help, the work of creating Napalm Hack Mod would be impossible.
- Game Web Directory : Red Brilliant Fox which also provided its distribution platform.
- Special thanks toO Ilusionista

For its editing OpenBoR tools.


- Special thanks to

Pierwolf

who started this great

Final Fight Gold saga

. Also many more great OpenBoR games.
- Special thanks also to

VanGames

who was our tester through his YouTube channel.




This MOD has been produced by ''Accelerate the Web Biker'', Red Brilliant Fox, PierWolf, LNS and OpenBoR society
Codes Configurations
Key Configuration
Button color configuration
A=Attack; J=

Jump

; S=Special 1;
S3=

Special 3

; S4=Special 4
Basic Key Configuration :
{=A=} {=J=} {=S=}
{=S3=} {=S4=}
Animate Key Configuration :
=🔵= =🔴= =🟢=
=🟡= =🟠=






Ultimate Move 1
{=A=} ➬ {=S3=}
=🔵= ⇰ =🟡=
Ultimate Move 2
{=A=} ➬ {=S4=}
=🔵= ⇰ =🟠=






Basic Special
{= A J =}
=🔵🔴=






Special 1
{=S3=}
=🟡=
Special 1 - Super Combo
{=S3=};{=S3=};{=S3=}
=🟡=;=🟡=;=🟡= . . .
Special 2
{=S4=}
=🟠=
Special 2 - Super Combo
{=S4=};{=S4=}
=🟠=;=🟠=;=🟠= . . .
Special 3
{=S=}
=🟢=
Special 3 - Super Combo
{=S=};{=S=};{=S=}
=🟢=;=🟢=;=🟢= . . .







Rare

combo hits!

Rare

combo hits!

Rare

-

in some of the characteristic ones

Fast special
{=J=} ➬ {=S=}
=🔴= ⇰ =🟢=
Fast special
{=A=} ➬ {=J=}
=🔵= ⇰ =🔴= {for Kadan {=A=}➬{=J=}➬{=A=}}

Fast special
{=A=} ➬ {=A=}➬ {=J=}
=🔵= ⇰ =🔵= ⇰ =🔴=
Fast special
{=J=} ➬ {=J=}
=🔴= ⇰ =🔴=: etc...
Fast specia
{=A=} ➬ {= Front =}
=🔵= ⇰ = 🕹️F =








---
Curious over Napalm Hack Mod!
Curious about Napalm Hack 1.1!
Well, as you already know, the foundation on which Napalm Hack 1.1 is built is that of Napalm Hack Mod. This promises a very energetic and intense gameplay, which contrasts sharply with the strategy of LNS, where the high skill and experience of the players, combined with precise tactics and resilience, are honored.
In this new version, SNK characters have been improved, as well as those from Street Fighter Alpha, Street Fighter Warriors of Fate.
An additional news is that we have also given additional characteristics to Nestor, who is now a rather energetic warrior.


Installaton:
Download === >> unzip === >> play