Original Game !
LNS WebSite !
CON 5 DUROS - Neston's YouTube channel !

Napalm - Authors!
Author's YouTube Channel !
Author's Quora Blog!
Author's Facebook Group!
---
Testers:
Accelerate the Web Biker: youtube.com/@A.W.B.
Vangames: youtube.com/@vangames4134
---
Technical support and creative geniuses 🕮🕮🕮
== msgneverything ==
---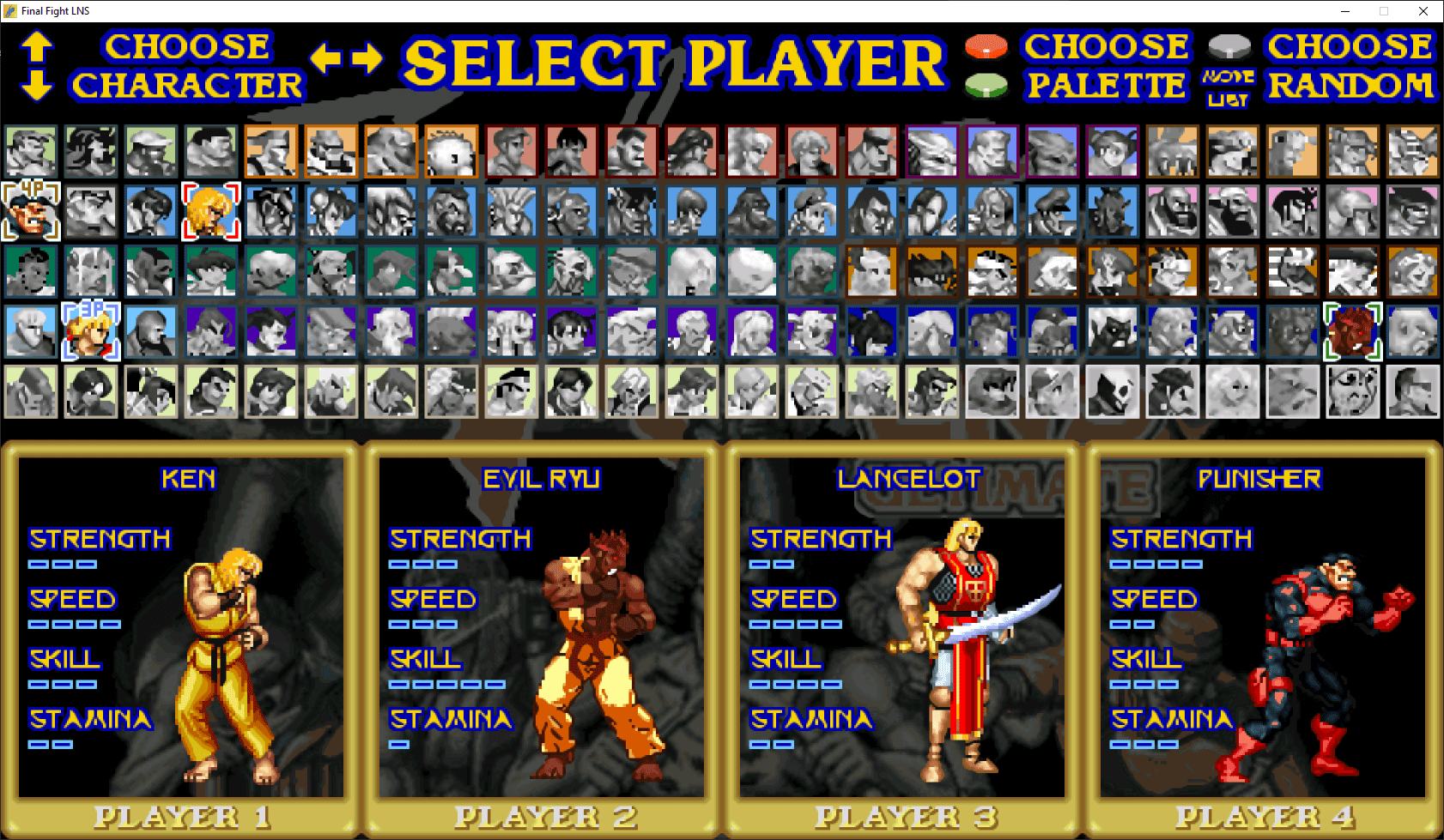 Well friends - this is great! A new remake of one of the most popular and sought after games by fans - Final Fight LNS Ultimate. A really hot and dynamic new mod that will radically change your gameplay.

Now to the OpenBoR Final Fight family we can also add the Napalm Hack Mod which is built around the base game Final Fight LNS Ultimate v.04.
In fact, you will still be playing FFLNSU v.0.4, but in a new, dynamic, tense and impressive way.

Actually, Napalm Final Fight (also known as Napalm Hack Mod) is a simple but massive hack in the construction of Final Fight LNS Ultimate v.04 game and its OpenBoR engine.
Without changing the core coding, some of the default values for players and enemies have been changed.
Two new buttons have also been added to the control system.
In this way, we were able to obtain a completely different and amazing interaction between the individual structures.

We've named this mod Napalm, because of the pervasive and devastating effect the new changes create on the battlefield.

Changes:
-Added some new combos and super moves.
- Special hits and Ultimate Moves are now easier, faster and more successful.
- A new recombination in the Napalm Hack Mod also creates some new powerful hit sequences that don't exist or are very difficult to perform in the original game.
- All cheats are unlocked
- The parry button has been removed and now replaced with 3 new attack buttons.
- Doubled HP of players and enemies.
- Increased MP to 250.
- MPRate now resets immediately
- Also added a new starting color for characters.
- Easy keys - performance! Combos and special moves are now performed with a simple press of one button or a simple combination of both buttons.

With thanks to LNS.
We created this hack of Final Fight LNS Ultimate v.04 to ease our own gameplay and make it more dynamic to play.
In typical OpenBoR spirit, we are sharing Napalm Hack Mod with all fans and gamers who want to play it.

Our modest contribution cannot be compared to the tremendous achievements of the LNS we have worked on.
For which we offer them our deepest thanks and admiration for their efforts.

Note!
But remember this is a variant of Final Fight LNS Ultimate v.04 game created by LNS. The gameplay in Napalm is significantly different from that of FFLSU v.0.4.
If you want to play the game the way the LNS authors made it, you need to download their original version.

---
- Special thanks to

msgneverything

for his guidance.

Which motivated us and showed us how to unlock them

.
Without his help, the work of creating Napalm Hack Mod would be impossible.
-
Game Web Directory : Red Brilliant Fox
which also provided its distribution platform.
- Special thanks to
O Ilusionista
For its editing OpenBoR tools.
This MOD has been produced by ''Accelerate the Web Biker'', Red Brilliant Fox, PierWolf, LNS and OpenBoR society
Codes Configurations
Key Configuration
Button color configuration
A=Attack; J=

Jump

; S=Special 1;
S3=

Special 3

; S4=Special 4
Basic Key Configuration :
{=A=} {=J=} {=S=}
{=S3=} {=S4=}
Animate Key Configuration :
=🔵= =🔴= =🟢=
=🟡= =🟠=






Ultimate Move 1
{=A=} ➬ {=S3=}
=🔵= ⇰ =🟡=
Ultimate Move 2
{=A=} ➬ {=S4=}
=🔵= ⇰ =🟠=






Basic Special
{= A J =}
=🔵🔴=






Special 1
{=S3=}
=🟡=
Special 1 - Super Combo
{=S3=};{=S3=};{=S3=}
=🟡=;=🟡=;=🟡= . . .
Special 2
{=S4=}
=🟠=
Special 2 - Super Combo
{=S4=};{=S4=}
=🟠=;=🟠=;=🟠= . . .
Special 3
{=S=}
=🟢=
Special 3 - Super Combo
{=S=};{=S=};{=S=}
=🟢=;=🟢=;=🟢= . . .







Rare

combo hits!

Rare

combo hits!

Rare

-

in some of the characteristic ones

Fast special
{=J=} ➬ {=S=}
=🔴= ⇰ =🟢=
Fast special
{=A=} ➬ {=J=}
=🔵= ⇰ =🔴=
Fast special
{=A=} ➬ {= Front =}
=🔵= ⇰ = 🕹️F =








---
Curious over Napalm Hack Mod!
So, the gameplay is really dynamic. The gameplay in Napalm Final Fight is hight intense and explosive. Some of the characters, such as Ken, Evil Ryo, Uren and Akuma are gifted with new lightning strikes that knock down the enemy.
Haggar, Guy and Cody are simply unstoppable. Their technical characteristics have been brought to a new and better level. Lucia, Carlos, Dean and Maki have a modest range of moves, but the new keys for easy character control give you a huge range of combinations.
Other characters to look out for are the heavyweight fighters. These are the red cyclone Zangiev, Goro Dimon, Honda, T.Hawk and again Haggar. Now their grips look imposing and command respect on the battlefield.
The imposing Gouken and Oni are now some of the strongest characters in the game.
You'll find that in this crossover, the Knights of the Round Table Percival, Lancelot, and Arthur also possess an improved fighting style.
The only exception is Nestor. This character is a inspired interpretation witch represents the author himself. The character is unchanged, but we only added an untouchable limit to his PM-rate, which now recovers in a flash.. However, Nestor is one of the strongest characters in the game and is introduced as a hidden character that you need to unlock.


Installaton:
Download === >> unzip === >> play