we use google translate

if you need ===>>

Double Dragon & Mortal Kombat <<=== ===>> M.U.G.E.N. Game Club
Final Fight Game Club <<=== ===>> M.U.G.E.N. Game Club-Dragon Ball
Beats of Rage Game Club <<=== ===>> M.U.G.E.N. Game Club-K.o.F -Torrent
Streets of Rage Game Club <<=== ===>> M.U.G.E.N. Game Club-Mortal Kombat

LNS Web-Site
The original version by LNS
The Chinese creator's Forum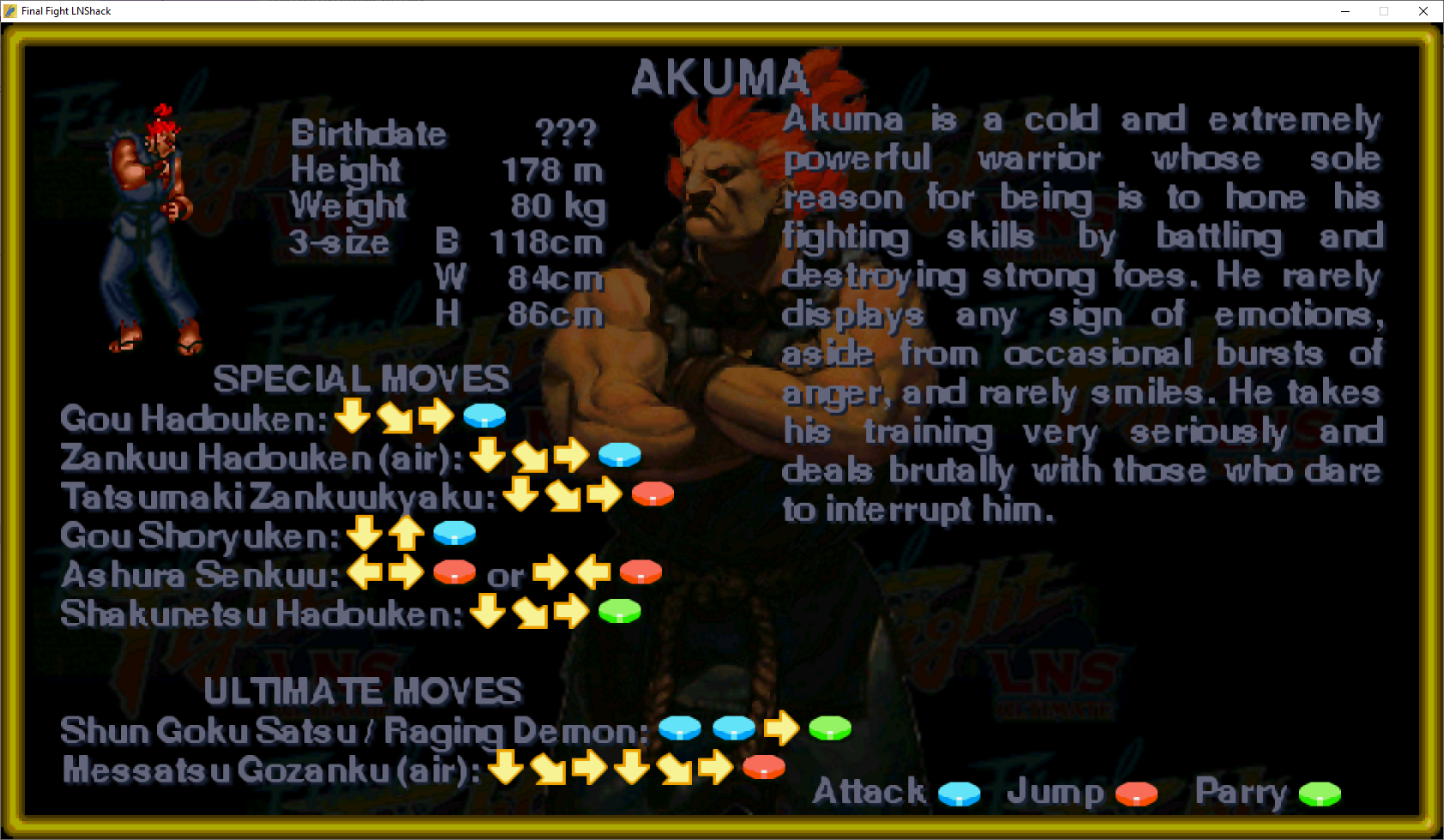 Well, it's good.Naturally, an edition with exceptional qualities and a leader among the games produced by fans.Final Fight LNS Ultimate V.03 was created by the Brazilian team, LNS. This conceptual project began with the reworking of the game produced by PierWolf, ''Final Fight Gold''.LNS uses the basis of Final Fight Gold for a series of large-scale innovations and changes to the original design and concept. The story has changed and developed in an amazing way. A huge amount of characters from different sagas and universes have been added. Each character is built in detail. Each of them has its own style of fighting, as well as a unique set of special punches, combinations and grips. - A real furor for fans of Beat 'em Up games.In Final Fight LNS Ultimate V.03 you will find 69 different characters that you will have to unlock during the gameplay. Here meet characters and arenas from various games, wich as Street Fighter, Predator vs. Alien, Cadillacs and Dinosaurs, Captain Commando and many others. Many adventure games that have become a bestseller have intertwined their stories here in Metro City, where Haggar is trying to bring order.
However, Final Fight LNS Ultimate V.03 continues to undergoing more changes.
New revision but under the same title.
This can be defined more as a "hack" and a change in the own characteristics and qualities of the existing game. However, the changes significantly change the gameplay.

In this version of the game, which is produced by a Chinese creator, there are several major changes. You can now perform the final move of the fighters with one key, without the need to enter complex combinations. It is unlocked and cheats the menu, where you can get unlimited game credits. The MP recovery speed is doubled, as well as a number of other changes that will make this Chinese version of Final Fight LNS Ultimate significantly different from the original version.
Of course, as the author of these changes says, they are all made in order to improve the gameplay.

Well, this vast universe of combined worlds called the LNS Ultimate offers you dozens of hours of unique gameplay and entertainment, plus several different game modes.

This game has been produced by OpenBoR society, PierWolf, LNS and special corrections by SMG.
Installaton:
Download === >> unzip === >> you play.


Good ''Final Fight Gold'' Games

Direct Download Service


this clip from Accelerate The Web Biker on his channel оn youtube

free unzipper 7zip Download