we use google translate

if you need ===>>

Double Dragon & Mortal Kombat <<=== ===>> M.U.G.E.N. Game Club
Final Fight Game Club <<=== ===>> M.U.G.E.N. Game Club-Dragon Ball
Beats of Rage Game Club <<=== ===>> M.U.G.E.N. Game Club-K.o.F -Torrent
Streets of Rage Game Club <<=== ===>> M.U.G.E.N. Game Club-Mortal Kombat

The game YouTube channel Infinity beat 'em up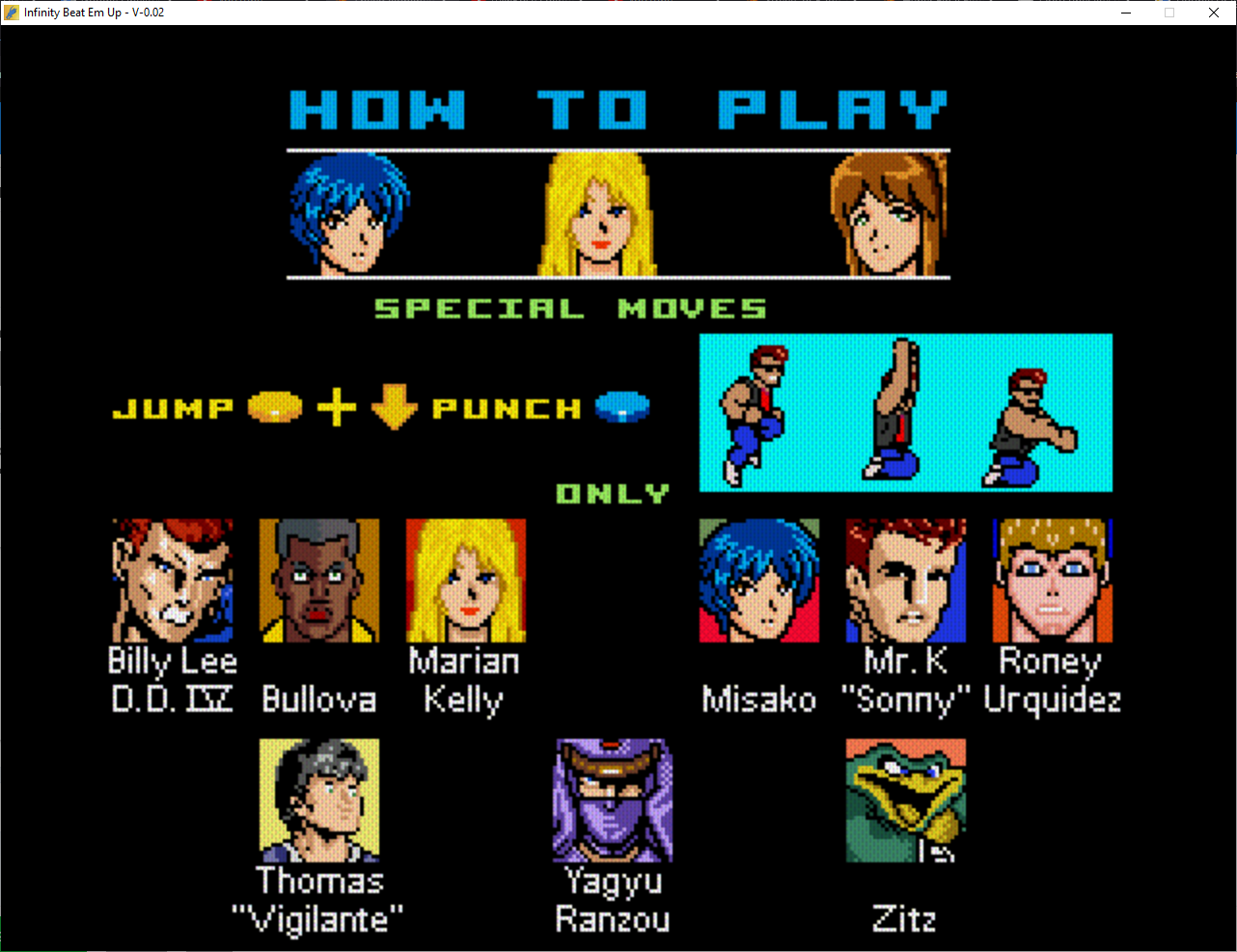 Bulmaz presents us another of his unique works that carry the spirit of the classics. Double Dragon, named Infinity Beat Em Up - V-0.02 belongs to a series of games that simulate the function of old TV consoles. This is achieved mostly through the means of animation, which is 8 bits.Beautifully furnished decors and built models, typical of the games of thirty years ago. Let us mention that such animations were once used for super-productions, such as Capcom's Final Fight and Technōs Japan's Double Dragon, which required the full financial and scientific potential of their companies.Today, the unique retro experience, which is achieved with the help of the OpenBoR engine and the artist's mastery, will captivate you and make you a fan.
OpenBoR is an innovative modern engine that drives 2D beat 'em up games and is one of the most modern and powerful in its class.
Bulmaz shows great talent. His games are characterized by excellent synchronization to every detail. Every single character, every single weapon or scenery decoration is so tailored that the game, although amateur, has a complete and full look.
In this part of Infinity Beat Em Up you will be able to follow a new story about the Double Dragon. A huge team of the best fighters. These are the brothers Billy and Jimmy Lee, as well as the Ninja Ranzou, Ayumi and the kung fu master Chin.
Other fighters who will join the group of the double dragon are, Jeff, Berserker, Blitz, Bullova, Mr.K Sonny, as well as the mighty Ronny. Guest fighters from other sagas are the Toad Zitz from Battle Toads, Tomas Vigilante, Riki Ryan, Misako, Kyouko, and Maki from Final Fight. In addition, you will be able to use Meriam as an active player.
The game has its own atmosphere. Although dedicated to Double Dragon, she is creating her own alternate universe.
Infinity Beat Em Up - V-0.02 Double Dragon has been produced by OpenBoR community and Bulmaz


Installation : Download ===>> unzip ===>> play == !


Good Double Dragon Games

this clip from Accelerate The Web Biker on his channel оn youtube

free unzipper 7zip Download