we use google translate

if you need ===>>

Double Dragon & Mortal Kombat <<=== ===>> M.U.G.E.N. Game Club
Final Fight Game Club <<=== ===>> M.U.G.E.N. Game Club-Dragon Ball
Beats of Rage Game Club <<=== ===>> M.U.G.E.N. Game Club-K.o.F -Torrent
Streets of Rage Game Club <<=== ===>> M.U.G.E.N. Game Club-Mortal Kombat

The game YouTube channel Infinity Beat 'em up
The kt 住 江's twitter channel kt住江 (@ktsuminoe) / Twitter
The Blog of the Chaos Fight kt住江さんの自作ゲームの紹介! | アンバーちゃんの巣穴 (theblog.me)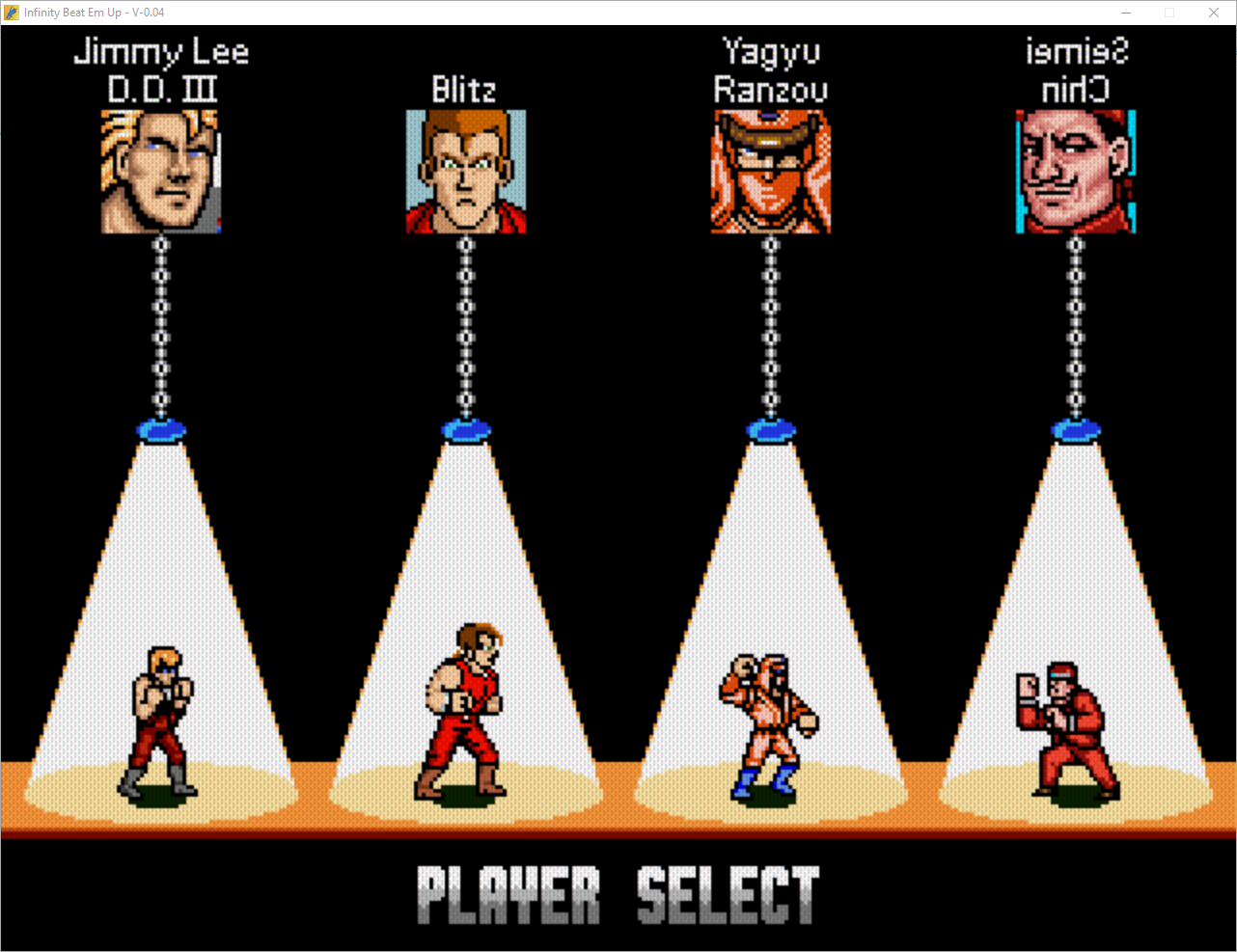 Wow, what a game! This is remarkable. The Japanese author kt 住 江 has gathered here all his best achievements, such as architecture, dynamics, scripts and has included them in a common game called Infinity Beat Em Up. We present you a review and download of version 0.04. This is a full-fledged game, but we assume that there will be new improvements.Well, the game has some bugs but it's still unique. The console contains several different mods, which by their nature are different games. We can consider Infinity Beat Em Up as a factory package of titles that you can play on a single charge. From the OpenBoR console menu, you will be able to choose exactly which game you want to play. Double Dragon infinity, Double Dragon infinity 4, River City Ransome infinity, Infinity Battle, Mission Mexico are five separate games to choose from. Another feature is that all the characters are unlocked and you can choose your character from several variants of Billy and Jimmy Lee. These are their characters from different parts of the series. Additionally, Berzerker, Blitz, Bullova, Alex from Kunio and Maki from Final Fight are present as eligible characters. Also starring Marian Kelly, Mr.K, as Sonny, Mutant Frogs Pumple and Blitz, Roney, Kyouko, Misako, Riki Hibari, as Ryan, Satomi Momozono, Tomas Vihilante. Particularly attractive characters that you can use for play are: the Kung Fu Master Seimei Chin and Ninjas Yagyu Ranzou and Ayumi. You can also choose Jeff or Willy who are bosses in the game.
The main handwriting of the author kt 住 江 is preserved and the games are a very good simulation of 8-bit games from a quarter of a century ago and their unique and inimitable animation. However, the engine that drives "Infinity Beat Em Up - V-0.04" is modern. It is one of the best - OpenBoR and you will play in "beat 'em up" genre according to the latest criteria for a good game.
Each character has his own unique fighting style. Which makes these living game stories, really different and unique, depending on which character you use to play.
You can download this game or visit the author's blog, where you can also find the latest updates. On our pages we provide you with all the necessary links to get a full game.
Infinity Beat 'em up game has been produced by OpenBoR society, Infinity Beat 'em up and kt 住 江


Installation : Download ===>> unzip ===>> play == ! =// When you start the game, wait about a minute for it to load.


Good Double Dragon Games

*=*=5=*=*

this clip from Accelerate The Web Biker on his channel оn youtube

free unzipper 7zip Download