we use google translate

if you need ===>>

Double Dragon & Mortal Kombat <<=== ===>> M.U.G.E.N. Game Club
Final Fight Game Club <<=== ===>> M.U.G.E.N. Game Club-Dragon Ball
Beats of Rage Game Club <<=== ===>> M.U.G.E.N. Game Club-K.o.F -Torrent
Streets of Rage Game Club <<=== ===>> M.U.G.E.N. Game Club-Mortal Kombat

The game YouTube channel Infinity Beat 'em up
The kt 住 江's twitter channel kt住江 (@ktsuminoe) / Twitter
The Blog of the Chaos Fight kt住江さんの自作ゲームの紹介! | アンバーちゃんの巣穴 (theblog.me)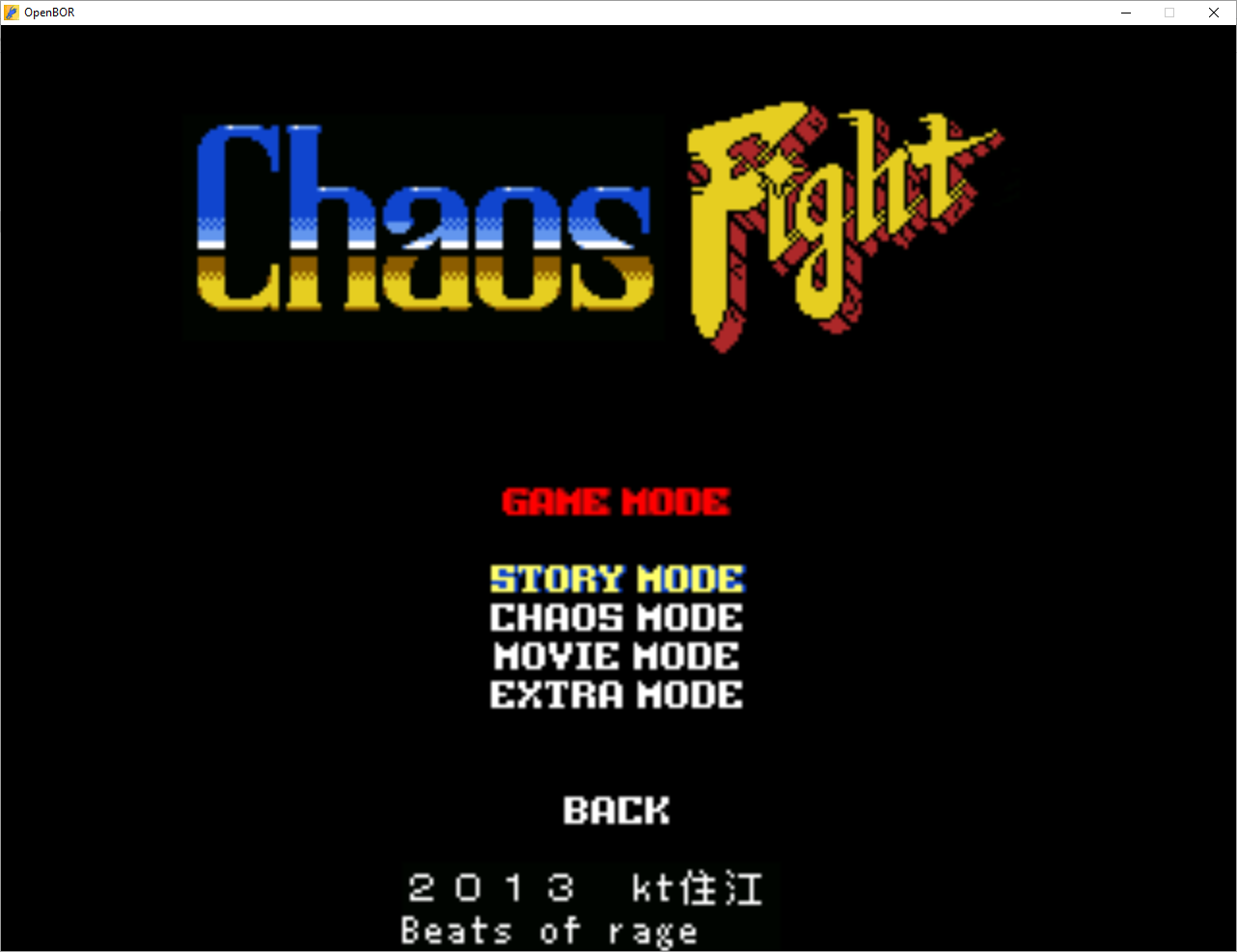 Another game from kt 住 江, written for OpenBoR.
The style of this author is distinct. It is present in the world of OpenBoR video games with its 8-bit simulations. Games and animation resemble consoles a quarter of a century ago. However, these virtual works are part of the new era and their qualities are compatible with the current criteria for a good beat 'em up game.
Chaos Fight is a mod of the game Beats of Rage. His performance is identical to other works by this author, such as Double Dragon Bangaihen. Richly decorated decors in 8 bit style, strong dynamics, many special moves and a large set of hidden characters from which to choose your character.
Each of them has its own unique fighting technique.
In order to choose the additional characters of the game Chaos Fight, you will have to play it once in the main mode and then they will be unlocked for you - far more interesting characters.
As a disadvantage compared to Double Dragon Bangaihen, we can consider that, weapons cannot be used.
The story is typical of most beat 'em up games. Here, however, the world is original. Strange animalistic world. These are not mutants, but the inhabitants of an alternative universe from Japan.
And in this distant world, the inhabitants of this country also are masters of martial arts. Chaos Fight is a tense dynamic action game where your skills to lead your characters are of paramount importance.
Typical of OpenBoR is the management console of this engine, which also offers you the opportunity to add additional credits to the game. This will make it much easier for you.
Chaos Fight has been produced by OpenBoR society, Mr.Q and kt 住 江


Installation : Download ===>> unzip ===>> play

Good Double Dragon Games

*=*=5=*=*

this clip from Accelerate The Web Biker on his channel оn youtube

free unzipper 7zip Download